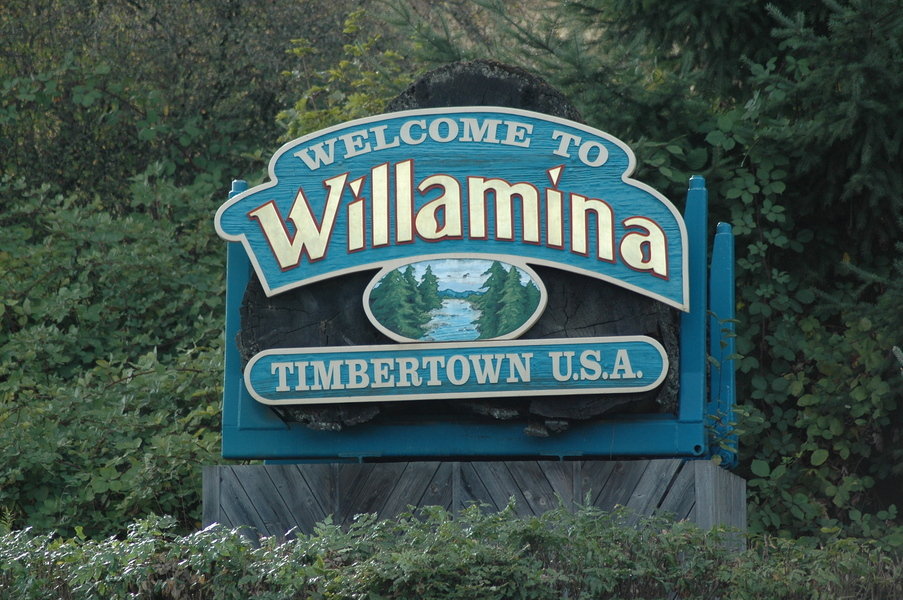 Yesterday City Councilors from Willamina, a small town located in Yamhill County, considered a new ordinance declaring their city an "illegal alien free zone". The ordinance would compel police officers to stop anyone within the city limits and demand that they show proof of citizenship. If someone can't show proof of citizenship the ordinance would require law enforcement to start the deportation process. After strong negative response from the community, the proposal for the ordinance was voted down.

Residents believe that if such an ordinance were adopted they would be targeted based on their skin color. In a Fox News 12 report, Willamina resident Heidi Hogue said, "My husband is brown, my kids are brown and I'm really scared it will cause them to be targets if it passes."

The city councilor backing the anti-immigrant ordinance, Paul Delany, was asked by KATU news if the ordinance was racial profiling. Delany responded, "I don't know how this is racial profiling. People are profiled everyday". This statement by City Counselor Delany has many curious about what he means. Are people being racial profiled by the city of Willamina?

Continuing the interview with KATU reporter Anita Kissee for the 11 O'clock news, Councelor Delany was asked about his motivations for the anti-immigrant ordinance. "We haven't noticed a lot of folks other than white people.", Kissee said. "Do you have a problem with illegal immigrants in this area that is spurring this kind of action". Delany responded that he had "a problem with illegal immigration in general".

However, during an interview with McMinnville News-Register, Delany said of undocumented immigrants that "they could be bringing drugs over the border and I have kids. They could be rapists. They could be child molesters. I don't want them living in my town." The fact that these are common anti-immigrant code words used by commentators like Lars Larson and Lou Dobbs and groups like Oregonians for Immigration Reform, FAIR (Federation for American Immigration Reform) and others when referring to Latino Immigrants, there is little doubt about who Mr. Delany is targeting with his ordinance.

According to KATU, many Willamina residents responded negatively stating they believe the anti-immigrant ordinance would give their town a bad name. City Councilor Pat Howell, who opposed the ordinance, believes it to be "unconstitutional", "unenforceable" and "would give her town a bad name". She further questioned the practical nature of the ordinance asking, "What are we going to do, put barricades at the entrances of the town and check people as they come in? How do you enforce something like that? And why would you want to?"

Another resident, Brian Gibbs responded with equal frustration saying the ordinance "doesn't sound very welcoming to me. I think we are better known as timber town myself."

During the hearing, Resident David Terry responded to the proponents of the ordinance saying, "Now we want to slam the door based on pure ignorance, pure xenophobia, pure ignorance and pure fear".

Reviewing the video report from KATU's 11 o'clock news, a person close to this issue drew our attention. Jim Ludwick, President of Oregonians for Immigration Reform, who isn't a Willamina
resident, testified before their city council urging passage of the anti-immigrant ordinance.

As it appears Mr. Ludwick is trying to import his group's brand of xenophobia into the quaint little town of Willamina. This begs the question of how Willamina Residents feel about someone who doesn't even live in their city trying to infect their town's policies and laws with hatred and bigotry?

Anti-immigrant ordinances at the city and county level are not a new thing to Oregon. Last fall in Columbia County, Wayne Mayo asked the Columbia County Board of Commissioners to declare Columbia County an "Illegal Worker Free County". He urged them to consider new rules and statutes penalizing "contractors and employers who employ undocumented immigrants and enable them". Oregonians for Immigration Reform were part of the push to pass an anti-immigrant ordinance there, as well.

After failing to garner support for his ordinance by board of commissioners, Mayo launched a second attempt last month to place his anti-immigrant ordinance on the 2008 Ballot.

CAUSA will be following these stories closely and will post updates as they come available.