November 9, 2011
Architect of
Arizona
's Anti-immigrant Law SB1070 Thrown Out of Office
Organizations around the nation react, offer warning to those promoting an anti-immigrant agenda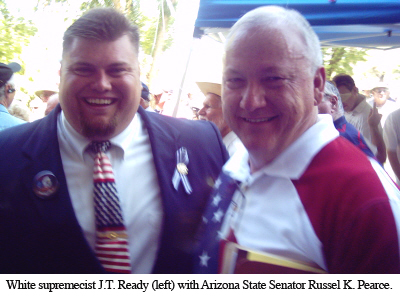 Many around the nation are warning that the result of yesterday's recall election is a new dawn and that those who use divisive politics and destructive demagoguery against immigrants and Latinos will be voted out of office.
Francisco Lopez, Executive Director of Causa Oregon said last night about the results, "The message out of Arizona is loud and clear:
If you attack Latinos and Immigrants, pass destructive laws that hurt our communities and promote an anti-immigrant agenda,
you will be voted out of office.
Many around the country should take notice and learn from the example Russell Pearce represents. Americans want sensible and humane policies not divisive and anti-immigrant laws that divide families, hurt communities and damage public safety."
Petra Falcon, Executive Director of Promise
Arizona
in Action said, "This election was a contest of values, and it is a victory for all of us who still believe in the promise of
America
and democracy. Hispanic voters, like most voters across
Arizona
, are tired of the angry rhetoric and the extremist positions that typified Pearce's record on immigration issues. Latinos, like everyone else, want sensible, federal solutions to real issues that our families confront everyday. We want elected officials who best represent these values, and get the job done."
In a release, Angelica Salas, Executive Director for the Coalition for Humane Immigrant Rights of Los Angeles (CHIRLA), had this to say "Russell Pearce's demise should be a warning call to all anti-immigrant zealots intent on climbing the mountain of discord and resentment by blaming, criminalizing, and insulting immigrant families. State legislatures, members of Congress and Presidential contenders alike should pay attention to District 18 voters when they say common sense, justice, and sound politics wins votes not hard-line, obstinate, and punitive bluster."
Benjamin Johnson, Executive Director of the American Immigration Council said, "
Arizona
's business, faith, and immigrant rights communities came together to organize a successful recall election against one of the nation's most notorious anti-immigrant legislators, State Senate President Russell Pearce. The recall election highlighted Pearce's extremist agenda and anti-immigrant demagoguery, which have damaged the state's reputation and economy, and the voters spoke clearly in rejecting it."
More statements to follow.